Our Microsoft certified engineers understand the importance of correctly installing and configuring servers in order to meet specific customer requirements. Reliable server functionality is essential to the running of your business, and you need to know that technicians have correctly calculated and accommodated heating and cooling, and specific airflows around machines, to ensure ongoing reliability and service.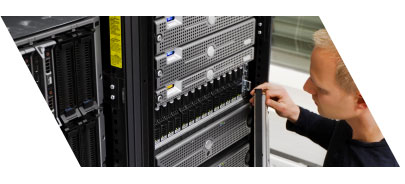 There are many factors and conceivable configurations, so the better informed you are, the easier it will be to balance your business needs against budget constraints. We can advise you on the significance of each component, to help you reach a position where you are able to make a decision on the server configuration that is right for your business. Some of the complex server configurations issues that need to be considered are:
Power redundancy. Do you need your servers accommodated in a facility that provides alternative power in a power outage?
Rack capacity that is sufficient to accommodate expected growth
Hardware redundancy, remember that for each production server, it is necessary to have backup equipment in place and ready to take production work-loads in case of failure
Environment monitoring, either remote or local, or both
Environment alarms to alert when temperature and other important thresholds are reached
Physical and virtual security
Local or remote access for server updates
Windows server or open source Linux server operating system?
Even for large customers with their own IT department, we are happy to share our industry and product knowledge so that you are kept informed of current security risks, urgent software upgrades, and ongoing maintenance needs. Decisions about whether to choose Windows Server or Linux for your servers generally hinges on factors like cost versus ease of use. Ask for our advice.
For smaller businesses, we are happy to share our knowledge so that you will be in a position to communicate on a more equal footing, and better understand ongoing performance and maintenance issues related to these vital business assets.
Our team can install your servers, and ongoing maintenance and monitoring can generally be performed either on site or remotely.